So as you all know, I just transferred to Georgia Southern University in Statesboro, Georgia. I have had to get adjusted to many of Statesboro's unique features, one in particular is the Georgia Southern Athletics. My old school didn't have a football team, so coming to a school who's football team is top notch is really exciting! The question everyone always wonders is... What do I wear on Game Day! Well, I'm glad you asked!
I can distinctly remember the day my parents told me that I was going to get glasses. I was hurt, honestly... but I knew that my mom and dad both wore glasses, so it wasn't a shocking surprise that their first born inherited some bad eye sight. It wasn't until I got to high school that I s
aw glasses as a fashion accessory. I started to trade in my mostly awkward "starter kit" glasses, and upgraded to some pretty sweet specs. My glasses have now become my staple, and going to the eye doctor to get a new pair every year is my favorite thing to do!
I've never gotten a pair of glasses that I didn't love, and Penn Avenue Eyewear Glasses are amazing! I love them because of 3 distinct reasons that are amazing, and I'd love to share them with you.
1.Personality: When I get a new pair of glasses, I want to be able to tell a story with them. My Penn Avenue Glasses really give me an edge and style that I love. People always ask "I love your glasses, where did you get them?" That's a great compliment to me, and also Penn Avenue, because they offer such a great product.
2. Home Try-On: I'm always skeptical of online shopping, because I don't know how the garment is going to fit. With Penn Avenue, it's so easy to make sure that product is for you. They have a fabulous home try-on program where you can choose up to 5 frames, and then you get to wear them and make sure that they are your perfect match!
3. Price: If you've ever ordered a pair of glasses, you'd know that they can get a little pricey. Penn Avenue offers their glasses at some pretty competitive prices, and it's great because you're getting the same if not better glasses that you'd get from your eye doctor at a much better price. I don't know about you, but I think that's my biggest dealbreaker!
Here I am at the first home football game of the season. Georgia Southern beat Western Michigan 43-17. Let's just say that it was a great game. My glasses are the Martin in Tortoise Bronze from Penn Avenue Eyewear.
Click the pictures of the glasses to get a better look for yourself! Go on, you know you want to!
I always have a special incentive...
Let me know what you think, hopefully your vision is much clearer and more stylish with your new glasses from Penn Avenue Eyewear.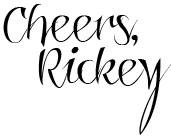 Thank you Penn Avenue Eyewear for Sponsoring this post.